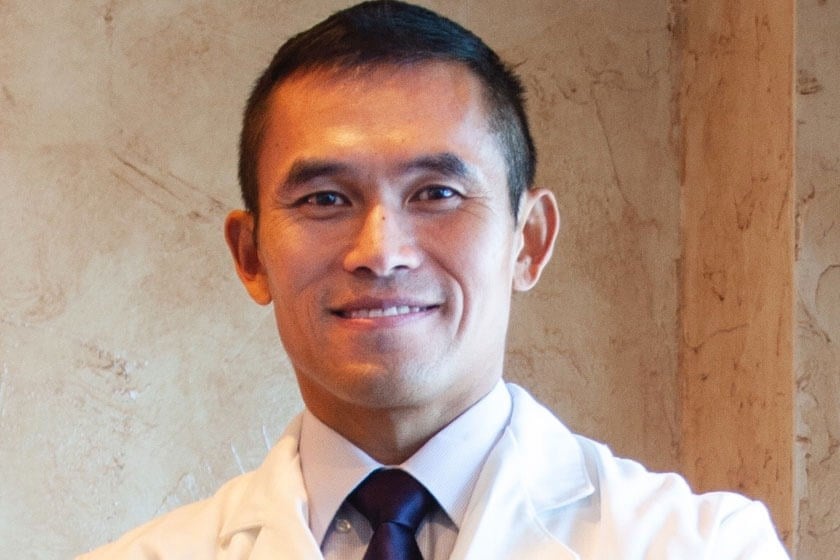 Dr. Yang Xia (pronounced like "Shaw") proudly served as a Major in the United States Army in San Antonio, TX. He currently serves as a director of both Mohs Surgery and The Dermatology Vein Clinic at the Wilford Hall Ambulatory Surgical Center.
He is a faculty member of the University of Texas Health Science Center in San Antonio, TX. He was deployed to Afghanistan in 2011 at Bagram Airfield where he was awarded The Bronze Star Medal for his service in the Craig Joint Theater Hospital.
Dr. Xia graduated as salutatorian at the United States Military Academy in West Point, NY. He received his medical degree from the Uniform Services University of the Health Sciences in Bethesda, MD. He completed his dermatology training at Walter Reed Army Medical Center and the Bethesda Naval Hospital. His Mohs surgery fellowship was with Dr. Hugh Greenway at the Scripps Clinic in La Jolla, CA.
Not only has Dr. Xia performed more than 1,500 Mohs micrographic surgeries and 1300+ complicated wound repairs with cutaneous flaps and skin grafts, but he is also an accomplished scholar with more than 20 peer-reviewed publications.
Reviews
"Dr. Xia defines the highest quality of patient care. Professional, knowledgable, and personable. In my opinion, Dr. Xia is one of the finest MDs available."
Anonymous
Healthgrades
"Professional, Efficient and friendly - things could not have gone better for my MOHS surgery. Dr. Xia and the assistants have a soft touch, and I don't think I could have been in better hands."
L.W.
Office Visit
"I would recommend SkinMD to anyone. They are caring, compassionate and thorough from the front desk, to their PAs, to their Medical Assistants, to the doctors. Dr. Xia did my Mohs surgery and followed up that evening to check on me at home. Weatherford is so fortunate to have them. Thanks SkinMD. ❤️"
R.A.
Office Visit
"I'm very pleased with everyone and everything at Skin MD Clinic. From the consult to the surgery to the last visit for stitches removal, couldn't be more pleased. My surgeon, Dr. Xia, even called me later the day of surgery to see how I was doing. I appreciated it. Can't think of one negative in the whole process."
B.B.
Office Visit
"I was concerned that the scar on my forehead would be a serious mistake after having a 1-1/2" circle cut into my forehead. However, it was and is invisible. They did a fabulous job. Thanks to Miranda and the surgeon Dr Xia (Shaw). Super staff!!"
O.S.
Google